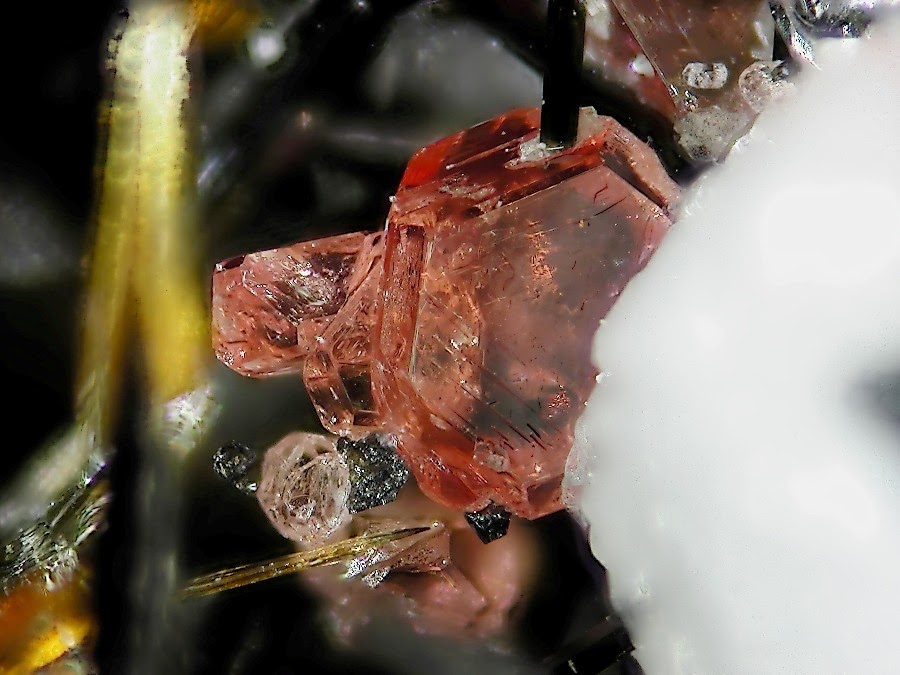 Chemical Formula: Na15Ca6(Fe2+,Mn2+)3Zr3[Si25O73](O,OH,H2O)3(OH,Cl)2
Locality: Julianehaab district of Greenland.
Name Origin: From the Greek eu – "well" and dialytos – "decomposable."
Eudialyte, whose name derives from the Greek phrase Εὖ διάλυτος eu dialytos, meaning "well decomposable", is a somewhat rare, nine member ring cyclosilicate mineral, which forms in alkaline igneous rocks, such as nepheline syenites. Its name alludes to its ready solubility in acid.
Eudialyte was first described in 1819 for an occurrence in nepheline syenite of the Ilimaussaq intrusive complex of southwest Greenland.
Alternative names
Alternative names of eudialyte include: almandine spar, eudalite, Saami blood. Eucolite is the name of an optically negative variety, more accurately the group member: ferrokentbrooksite.
Physical Properties
Cleavage: {0001} Imperfect
Color: Pinkish red, Red, Yellow, Yellowish brown, Violet.
Density: 2.8 – 3, Average = 2.9
Diaphaneity: Transparent to Translucent
Fracture: Uneven – Flat surfaces (not cleavage) fractured in an uneven pattern.
Hardness: 5-5.5 – Apatite-Knife Blade
Luminescence: Non-fluorescent.
Luster: Vitreous (Glassy)
Streak: white
Photos :