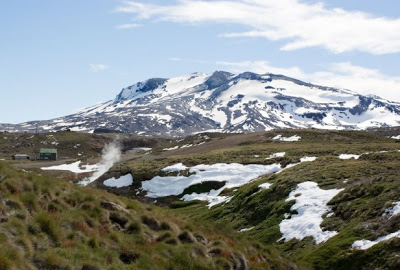 Officials in Chile and Argentina issue a red alert to citizens living around the Copahue volcano, which sits on the border of both countries. Monday's red alert, which is the highest level, also calls for the evacuation of nearly 3,000 people as activity increases on the mountaintop.
Andres Chadwick, Chile's Interior and Security Minister, said the increased activity could lead to an eruption, leading officials to begin evacuating families within a 15.5-mile radius of Copahue. "This evacuation is obligatory; it's not voluntary," he told The Associated Press (AP).
Chile's Emergency Office said the evacuation will last at least 48 hours depending on the level of activity. The agency added that heavy rains have also moved into the area, further complicating matters, possibly prolonging evacuations.
The nearly 10,000-foot-high Copahue volcano, which is nestled within Chile's Bio Bio region and Argentina's Neuquen province, last erupted in 1992, according to Chilean Mining Ministry's Sernageomin geology unit. However, it became active again in 2002, and has recently picked up in activity. The volcano has been releasing gas and producing minor tremors, as registered by area seismometers.
Officials from the region last issued a red alert in December 2012 after the volcano began spewing ash and gas, forcing a temporary evacuation of nearby residents, reports BBC affiliate CBBC.
About 600 residents of Caviahue, Argentina were evacuated late Monday afternoon when the volcano began spewing clouds of gas.
"The volcano is not erupting yet, but as a preventive measure we've decided to evacuate the population," Argentina's Neuquen Crisis Committee told AP. "There are no ashes in Caviahue. The vapor plume has descended, but in the last days, seismic activity has increased. That's the reason behind the change of alert in Argentina and Chile."
Chile has more than 3,000 active, dormant or extinct volcanoes within the Andes Mountains. Copahue is by far the most productive of the 500 that are still relatively active in the region. The peak of the mountain has nine volcanic craters within a 1.2-mile area and a large acidic crater lake on the eastern ridge.
There have been at least six major eruptions on Copahue since the rise of the Holocene, about 12,000 years ago.
Note : The above story is reprinted from materials provided by Lawrence LeBlond for redOrbit